With increasing educational ties between Malaysia and the United Kingdom, there is no doubt that there are more students seeking education with a better level of quality abroad. Students interested in design education from the UK can now pursue degree studies locally at The One Academy's Bandar Sunway campus.
In addition to offering exceptional creative arts and technology diploma programmes in Advertising & Graphic Design, Digital Media Design, Digital Animation, Illustration, Film Visual Effects (VFX), Interior Design, Fine Arts, ESMOD Paris Fashion Design & Pattern Making, and the newest addition, DigiPen Game Design & Computer Science, The One Academy has for many years partnered with the prestigious University of Hertfordshire, UK, to offer 3+0 degree programmes in Graphic Design, Digital Media Design & Interior Architecture and Design.
As one of the leading colleges for art and design, The One Academy is known for its emphasis on high-quality education and exceptional teaching by professional experts, leading to numerous award wins for the college and its students. In the Rookie Awards 2022 – one of the world's most significant student award and education rankings – The One Academy ranked the World's No. 1 for Best Production Excellence in Game Design & Development (Immersive Media) and 3rd in the Top 50 Best Creative Media and Entertainment Schools & Colleges in the World.
The University of Hertfordshire is an established name in the UK design education scene and has an outstanding reputation for its distinctive teaching techniques in a wide range of fields. Together with The One Academy's advantages in practical skills and creative prowess, this educational alliance has not only been able to cultivate students who are capable of creating high-quality work, but are also proficient in the implementation of creative ideas.
According to Tatsun Hoi, Founder & Principal of The One Academy, "In line with our 'Masters Train Masters' philosophy, the key to our teaching is to offer international quality education based on an industry-driven syllabus and practical coaching approach. With the extensive industry network of these two institutions and the firm foundation staffed by industry professionals, I am confident students will benefit from any of our international degrees."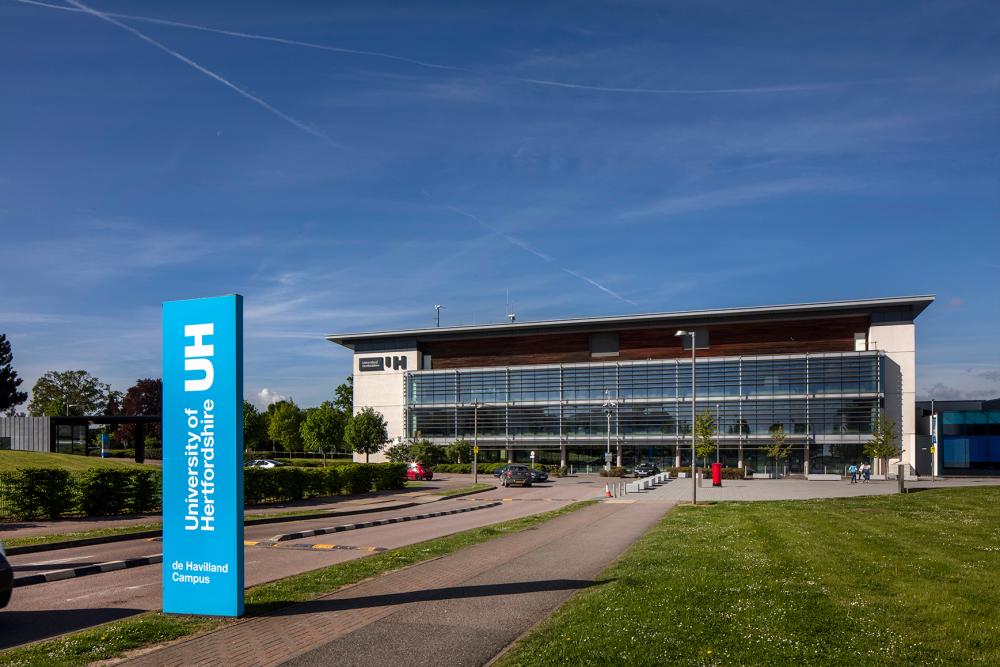 Dr Stephen Partridge, University of Hertfordshire's Dean of the School of Creative Arts, said that "the creative industries are a huge growth area, one of the fastest expanding sectors, and your development will enable you to thrive within it."
In this era of trending technologies such as the metaverse, 6G, artificial intelligence (AI), machine learning (ML), extended reality (XR), cloud computing, blockchain, big data, game design and more, it is now even more crucial to be in on the digital revolution.
As technology advances, it creates new opportunities and possibilities for digital media design, and in turn, digital media design drives the development of new technologies. The rise of user-centred design and the need to create more intuitive interfaces has led to the development of new interaction technologies such as touchscreens, gesture recognition and voice control. Computer-aided design (CAD) is an essential tool in interior architecture design that allows designers to create realistic 3D renderings of their designs to visualize how the finished space will look.
The use of digital tools such as graphic design software, computer hardware, and the internet has revolutionized the way graphic designers work. With these tools, designers can create complex designs more quickly and easily than ever before. They can manipulate images, type, and other design elements to create unique and visually stunning designs. Therefore, the three elite degree courses offered at The One Academy prove to be relevant to the demands of the global market today.
The BA (Hons) Digital Media Design explores the digital domain, including multimedia platforms, mobile devices, augmented and virtual realities, and establishes a rich, hybrid area of study for the 21st century.
The BA (Hons) Interior Architecture and Design allows students to gain, develop and demonstrate their knowledge, understanding and skills with focus on the creative improvement of existing and new buildings and spaces.
The BA (Hons) Graphic Design aims to create designers that are skilled in graphic arts, and would be able to bring their skills beyond the boundaries of conventional graphic design.
In addition to meeting the needs of students, the 3+0 UK degree programmes also meet the needs of parents. Offered locally at the Bandar Sunway campus of The One Academy, these degree courses save two-thirds of the normal cost that would have been incurred if one chooses to study in the UK. However, with the flexibility to complete their final year either in Malaysia or in the UK, these programmes certainly offer opportunities for those who desire the experience of pursuing a quality education abroad as well.
The degree courses are now open for intake; interested students can get more information from The One Academy's professional counsellors.
The One Academy is committed to providing the best art education programmes and continues to nurture its students passionately through its "Masters Train Masters" coaching philosophy, which has been practised for over 30 years, by providing diploma and degree courses namely Advertising & Graphic Design, Digital Animation, Digital Media Design, Film Visual Effects, Interior Architecture and Design, Illustration, Fine Arts and Paris Fashion Design & Pattern Making. For more information on The One Academy, visit www.toa.edu.my or call 03-7875 5510 or e-mail your enquiries to info@toa.edu.my.