PETALING JAYA: To all you music enthusiasts, the "DKong Fitness Music Festival " is set to get your groove on the dance floor through a Zumba performance on September 30th at the Maeps, Serdang with lively music beats and an energetic dance floor atmosphere by challenging the Guinness World Record.
You are invited to join us in breaking a world record to bravely challenging the Guinness World Record as the current record for a Zumba event in the Philippines stands at 13,350 participants, but the goal is to surpass the remarkable feat of 15,000 participants.
No matter which country you come from, your participation is eagerly awaited. International-level Zumba instructors will lead you to conquer the dance floor.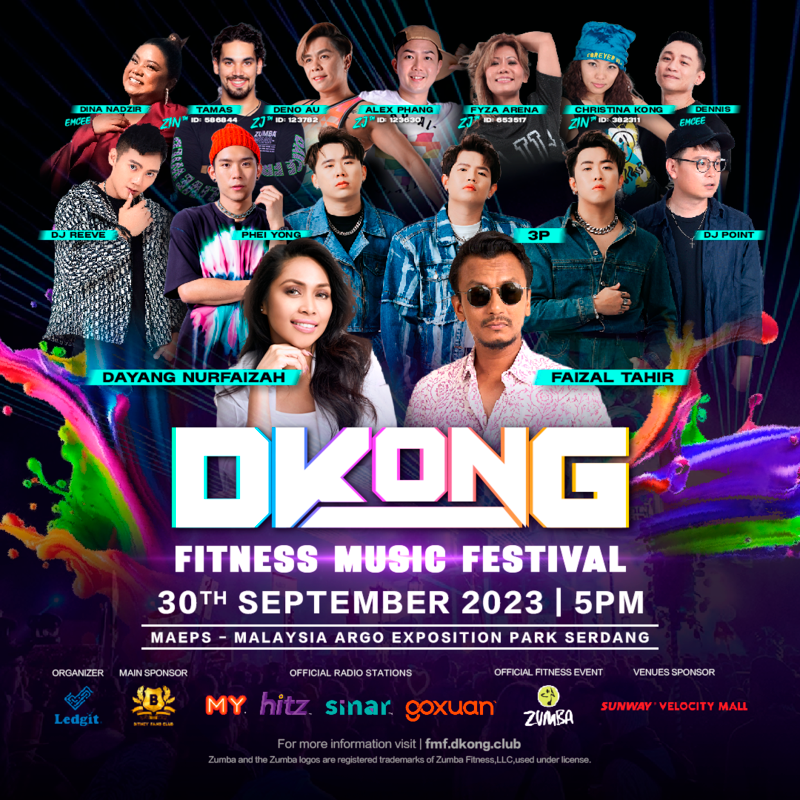 The DKong! Fitness Music Festival has received full support from Zumba Fitness LLC in the United States. Just imagine, you will be dancing alongside Zumba Jammers Alex Pang, Deno Au, Fyza Arena, Christina Kong from Malaysia, and Tamas Zsolnai, one of the top 20 Zumba Next Rising Presenters from Hungary. They will guide you through jumps, spins, and the release of passion on a dazzling stage, allowing your body and soul to merge with the flow of music.
Top Malaysian singers join in to support the event. The performers in Malaysia will ignite your passion throughout the night. Whether it's the exhilarating vocals of Faizal Tahir, the fantastic performances by Dayang Nurfaizah, 3P, Faizal Pj, DJ Point, DJ Reeve, Dina Nadzir, Dennis Yin, and more, every moment will be a soul-stirring experience.
You will immerse yourself in the most fervent music atmosphere, unleashing your energy and dancing alongside thousands of dancers in a state of pure excitement!
Tickets details consist of two exciting options waiting for you: Rock Zone for RM200 and Premier Zone for RM100. Purchasing a ticket will also entitle you to a luxurious gift package worth RM88, which includes a limited edition festival commemorative t-shirt, towel, and sponsored goodies. It's not just a ticket; it's a pass to enter the world of dance and fitness celebration.
Get your tickets now and join the ecstatic "DKong Fitness Music Festival," Malaysia's biggest Zumba music festival organised by Ledgit and sponsored by Bitney Fans Club.
Ticket website: https://www.ticket2u.com.my/event/31603. For more information, please visit: fmf.dkong.club.