PENANG: The Nine Emperor Gods Festival or "Kao Ong Eah" in the Hokkien dialect, is a tradition that has roots in Taoist tradition. This year's festival started on Oct 15 and devout Taoists, including Buddhists, believe this to be an auspicious time to undergo a nine-day spiritual cleansing and transformation journey.
They immersed themselves in prayer and adopted a strict vegetarian diet. This age-old custom, which begins on the ninth day of the ninth month in the Chinese Lunar calendar, has been passed down through the centuries and is engrained in the Taoist way of life. Coincidentally, from Oct 15 to 24, the Hindu community in Penang also observing a 10-day vegetarian diet in conjunction with the Navarathiri Festival.
Many stalls were set up near Sien Chye Tong Temple to cater to devotees who observed a full or partial nine-day vegetarian diet.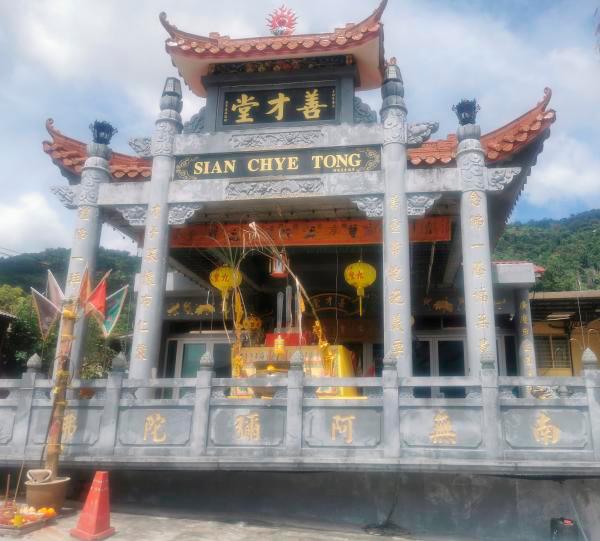 As Taoists and Hindus ushered in the two major festivals on the same day, big crowds flocked to the vegetarian stalls.
To provide an insight into these captivating festivals, we spoke with local stall owners and observers who shared their experience.
"This year, I ran my vegetarian stall at Block D of the Rifle Range flats. Although the prices of vegetables have gone up, we try to maintain our cheap prices, largely due to the senior residents in our area. We do our best to uphold the tradition as this is a time for spiritual reflection and doing good deeds," said Ann Neoh, a familiar figure in the community.
Apart from vegetables, vegetarian dishes feature soy, beancurd, tofu and gluten flour as these ingredients are incredibly adaptable and can take on various flavours. Tofu, a versatile favourite, works well in curries, soups, and stir-fries.
Like meat, beancurd skin can be crispy, and soy and gluten flour "meat" provides plant-based protein. Vegetarian cuisine has expanded greatly in recent times, with an array of plant-based meat options and amazing recipes that are simply too tempting to resist.
Indeed, vegetarians have a wide array of choices that cater to their culinary preferences.
However, in line with Taoist monastic traditions, vegetarian food can sometimes be quite bland as devotees abstain from the five "pungent plants" that are said to negatively impact mindfulness.
These are Chinese chives, garlic, onions, coriander and rapeseed plants. To maintain mental clarity or attachment to strong flavours, the chef also avoids making the dishes too spicy or flavourful.
The Sien Chye Tong Temple, located at Hye Keat Garden in Air Itam, offered complimentary vegetarian meals during the festival. After dining, visitors were free to make a donation of any amount to the temple.
"In Buddhism, we believe in collecting merits by doing good deeds and committing ourselves to vegetarianism, even for nine days, as this aligns with one of the five precepts of Buddha's teachings, which is to refrain from taking lives," said Sien Chye Tong Temple youth chairman Loh Choon Teik.
He said although the Nine Emperor Gods Festival is mostly a Taoist event, many Buddhists also celebrate it.
Along Jalan Air Itam was a vegetarian stall organised by Low Kim Shing, who said: "We have been setting up stall here for the past 30 years or so, and we have volunteers from all over the world who come to help out. Our chef cooks between 50 and 60 dishes daily to cater to the crowd."
Willam Khoo, a lawyer by profession and volunteer at the Low's stall who has been observing the nine-day vegetarian diet all his life, shared: "As a devout Taoist, this festival means a lot to me and my family. It's a time when we cleanse our bodies and minds through a strict vegetarian diet, and practise kindness, generosity and benevolence."
The origins of the celebration are rooted in Taoist folklore, in which the Nine Emperor Gods are celestial entities linked to the stars in the Ursa Major constellation. Seven of the deities correspond to the Big Dipper, a constellation composed of seven brilliantly shining stars. Polaris and Vega represent the other two deities. These stars serve as significant celestial landmarks, particularly in the northern hemisphere, guiding travellers and sailors. The mythological importance of the Northern Dipper also resonates with cultures worldwide.
Legend also tells the story of Dou Mu, a devout Taoist whose nine sons were involved in a plot to overthrow the Qing Dynasty.
Dou Mu then adopted a strict vegetarian diet to protect her sons. She is also known as the Goddess of the Northern Star.
In addition to the nine-day vegetarian diet, this story also inspired many Chinese to adopt a vegetarian lifestyle on the first and fifteenth day of each lunar month, known as "Chiak Jeh."
"Although I'm not a Taoist or Buddhist, I've always found Penang's Nine Emperor Gods Festival to be fascinating.
"It is a unique cultural experience. Sometimes, we can even see mediums in a trance, other than the colourful processions and festive atmosphere. I like to see how our community comes together.
"Besides, going vegetarian is really good for health," said Rebecca Ng, who was dining with a few coworkers.
On the eve of the Nine Emperor Gods Festival, devotees of Dou Mu dressed in white congregate by a river or beach to receive the nine celestial beings.
The deities are then carried in nine sedan chairs in a magnificent procession to temples, where over the course of nine days, joyous festivities are held in their honour.
Sometimes, representatives of smaller temples visit larger temples to pay their respects to the deities, and they arrive with full fanfare.
On the last day, the deities are ceremoniously sent off, and it is believed that rain always falls on that evening, signifying blessings from above.
The Nine Emperor Gods Festival is observed in many Southeast Asian countries, such as Malaysia, Singapore, Hong Kong, Thailand, Myanmar and Indonesia, but its distinct Penangite flavour gives this long-standing custom a unique twist.
The Nine Emperor Gods Festival in Penang is a cultural event that brings people together to celebrate spirituality and heritage, rather than solely being a religious tradition.
This unique experience in Penang fills the air with anticipation and brings the streets to life as they resonate with the sounds of Taoist mythology and local legends.