Modern French patisserie outlet, Xiao by Crustz, is the place to be if you are a dessert lover. The cafe serves desserts ranging from petite gateaux to handcrafted ice creams and pastries in its Petaling Jaya outlet.
The bestsellers in the dine-in dessert cafe are their signature petite gateaux (little cakes in French), which look so stunning on the plate that you feel bad taking a bite!
These little lavish cakes require a lot of skills and technical expertise to create, as well as attention to minute details. The diverse range of pretty little cakes comes in a variety of flavours and textures.
The owner of the cafe, Xiaoly Koh, first opened up Xiao by Crustz at PJ's Happy Mansion seven years ago, serving their speciality petite gateaux and pastries.
For Koh, making these little cakes gave her creative freedom. Besides, the artistic exterior and surprising hidden tastes and textures inside motivated Koh to specialise in making delicate desserts.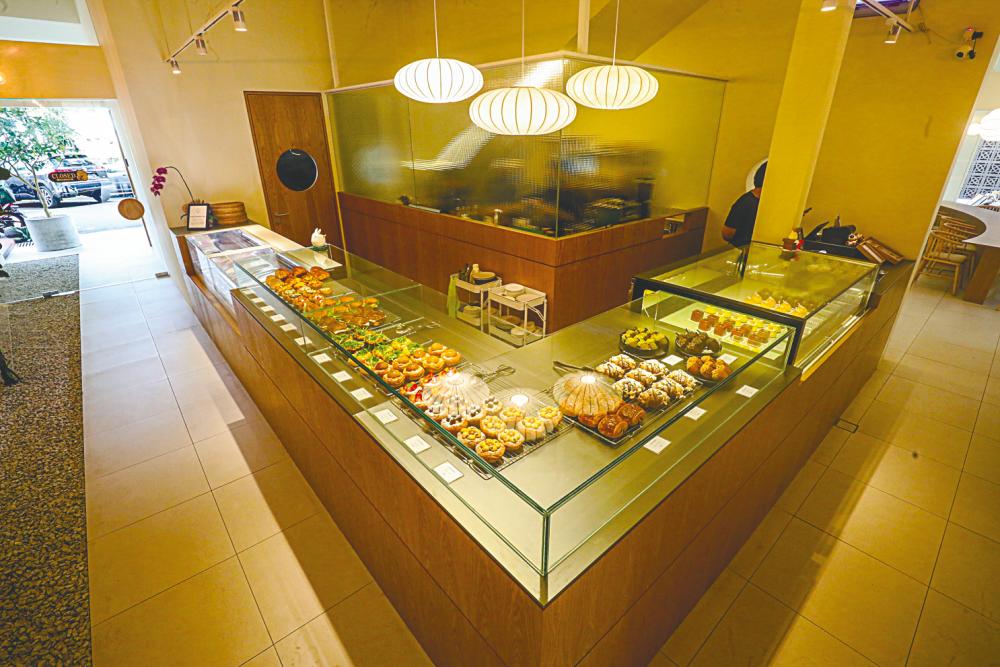 Just weeks ago, Xiaoly moved her pastry shop to a bigger, better space at 18, Jalan SS2/72, Petaling Jaya (next to Toast and Roast), tucked away from the hustle and bustle of PJ City.
"It's a bigger space than the previous one. I would describe this as a pastry place because there are more than just sweets," said Koh, adding that there are also sweet and savoury pastries on the menu.
"The cafe is relatively big and spacious for customers to escape from reality or stressful city life to a quiet place," explained Koh when asked why she picked the particular spot.
Through the huge front glass door, guests can view a minimalist-style interior design and a cosy ambience inside the corner lot cafe.
As you enter, the first thing you will notice is an array of ice cream flavours, delicious-looking pastries, and luxurious little cakes at the front counter in what appears to be a jewellery display glass cabinet.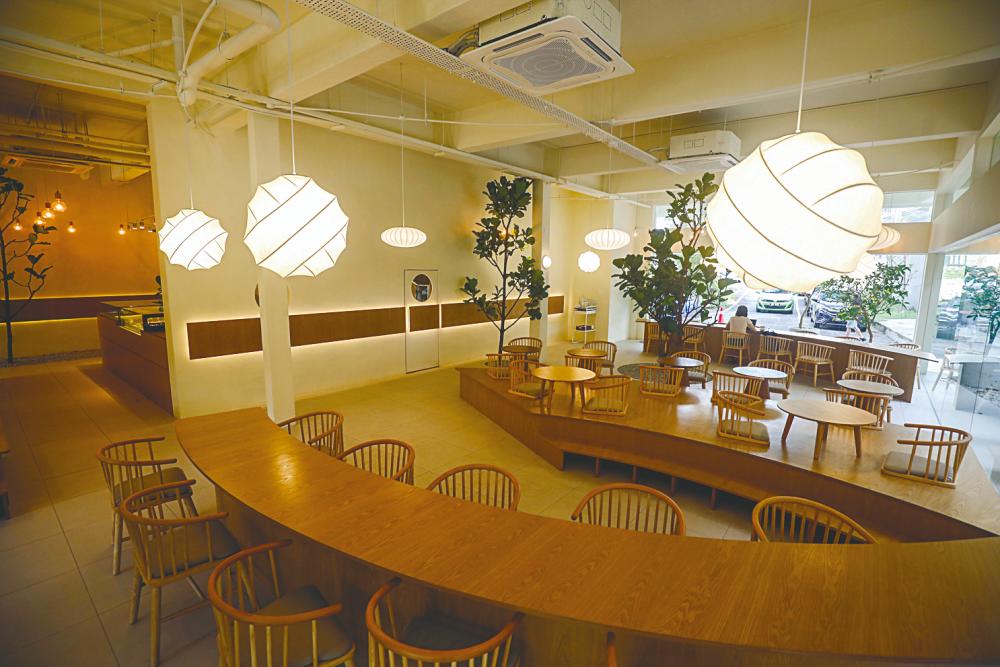 Further ahead, there is a special private dining room. Behind the pastry counter, guests would be taken by surprise by the sheer spaciousness of the seating area with ample natural light.
Leafy plants placed in the cafe give a pop of colour and add warmth to the entire space created by well-known local interior designer Amy Liang from CocoaKacang Design Studio.
A unique feature of the Japanese and Scandinavian, or Japandi, design concepts is the different types of seating arrangements.
"For this new cafe, I wanted a different dining experience where guests can sit together as a family with children on a raised platform, relaxed and enjoy the desserts."
"Sitting on the platform feels a bit more homey," said Koh about the seating area.
One thing that guests may not notice right away is that the table curves into two huge circles that extend all the way to the outdoor seating area.
"The light fixture above follows the two big round seating areas. A lot of components are round in this cafe.
"At first, customers were intrigued, but if we were to put the regular table and chairs there, it would look like any other cafe, and we did not want to go in that direction," said Koh.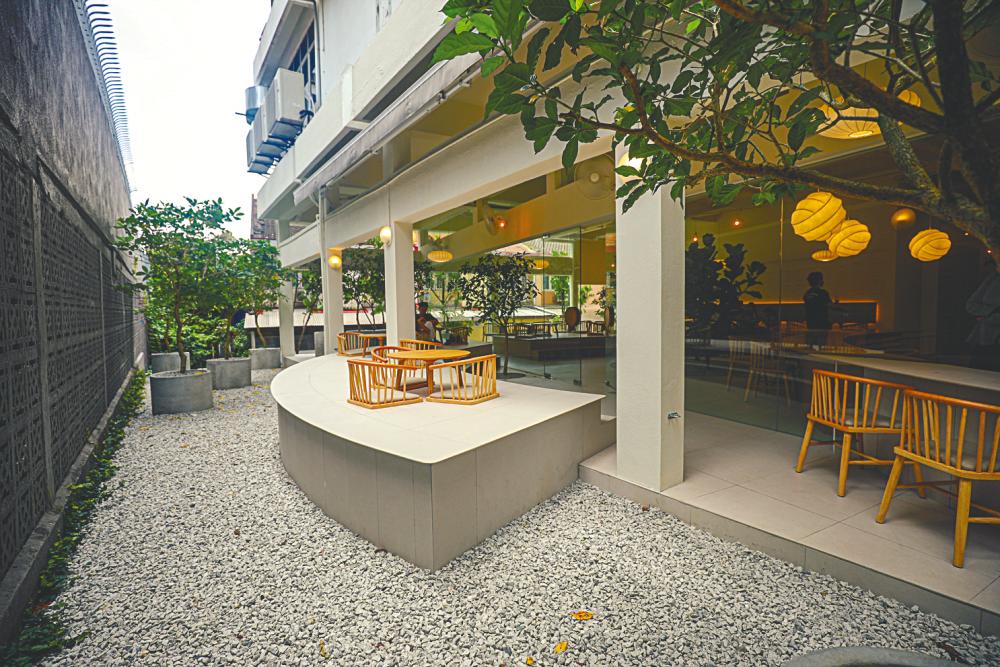 The outdoor area, decorated with green trees, is a dedicated space for pet-loving PJ City residents.
Speaking about the dessert offerings in the cafe, Koh said: "It's a one-stop centre for all things desserts."
"Most pastry shops offer either whole or slice cakes, ice cream, or bread, but we have all three in one store. We have ice cream, cakes, pastries, light bread items, and our signature mousse cakes," she added.
"We do a lot of mousse cakes. What makes us different is that we come up with new designs and flavours every few months and during festivals. We try to be creative by introducing new flavours from time to time.
"Besides, each of our cakes has different components, flavours, textures, and designs – all in one cake. For me, a good cake is one that, when you eat it, you remember the taste forever."
We could not agree more!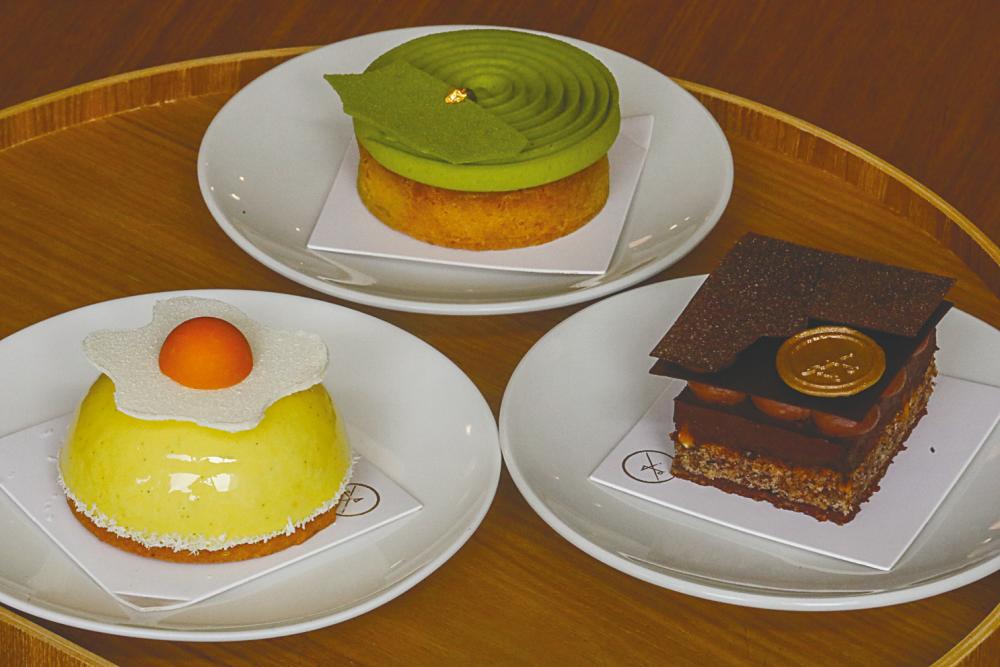 I had a chance to taste the luxurious and delightful pieces called Zen, Pear, and Cerf.
The first one I tasted was their best-seller Zen, a bright green-coloured chantilly cream piped in a round form on top of a tart base, topped with an edible gold leaf and a piece of Matcha chocolate.
Just one bite, and you can feel the flavours burst on your tastebuds.
The combination of different flavours inside was a pleasant surprise, especially the smooth and creamy Yuzu cream with a velvety almond cream sponge on a tart crust that was just heavenly.
It's no wonder this cake is one of their best-sellers.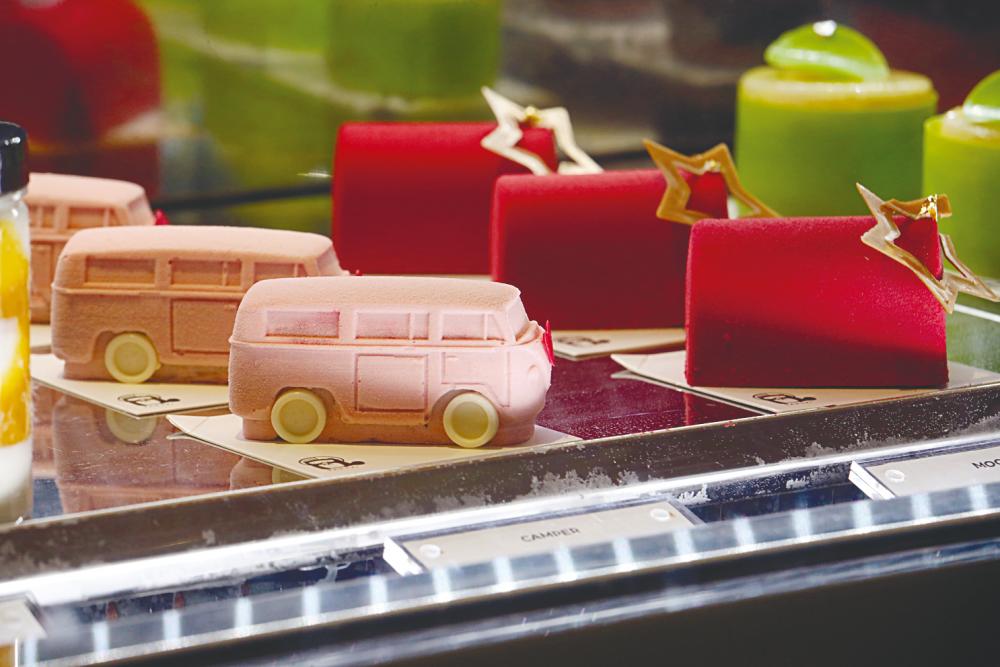 Pear looked cute with a delicate flower made out of paper-thin sweet white chocolate on top of the glossy yellowish orange jelly in a half-sphere shape.
If you take a closer look, you will notice little black dots on the jelly. It turns out it's vanilla beans.
A spoonful of the light and creamy cake, and all you can say is "divine!"
The light and fine texture of the light vanilla mousse flavour with bits of fresh pear diced pieces in the pear compote, added with a Swiss roll sponge, was refreshing and had a very well-balanced taste.
A hint of vanilla and desiccated coconut on the rind of the crumbly and flat round sabel Breton (French-style cookie tart base) would make you want to crave more!
Last but not least, Cerf. Never mind the name, because the layering of the decadent cake is beautiful.
The elegant cake, decorated with hazelnut dacquoise pieces and the cafe's logo in gold on top, was piped with black chantilly cream and a layer of Inaya Ganache Molluese on a chocolate streusel base.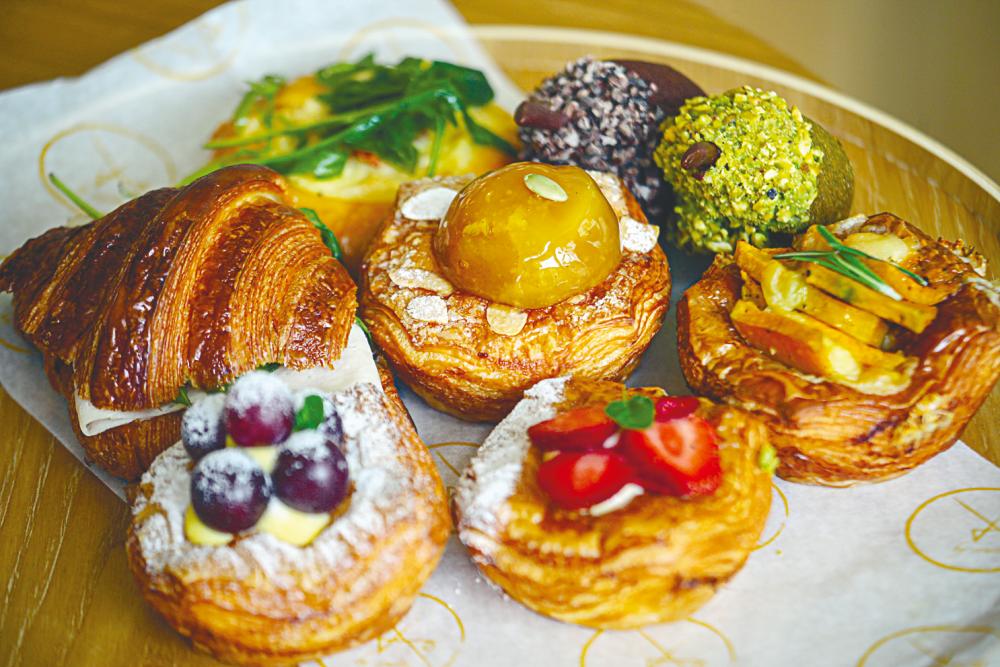 The rich and luscious taste of chocolate in cream and ganache complements crunchy dacquoise, and the combination of different textures in one bite is irresistible.
If you love sweet or savoury pastries, try the utterly delicious Grape Danish and Strawberry Danish, which have fresh fruits with flaky, buttery pastry and a surprise inside.
The creamy custard filled inside the pastry oozes out once the crunchy pastry is cut open.
The French-style apple tarte had a perfect balance of taste as it was not too sweet, but when eaten together with the crispy pastry, it was a real treat!
As for savoury, focaccia duck pastry with rocket leaves – a combination that you don't often come across – tastes good, while spinach mushroom chicken croissant is simple but tasty.
Then there is one for the vegetarians: pumpkin pastry.
Overall, the little cakes are the stars of the cafe with their uniquely different combination of tastes, and the flavours of the pastries were good too. It's a good spot just to sit back, relax, and enjoy the peace!