PETALING JAYA: The Jempol district in Negeri Sembilan offers a unique blend of culture, breathtaking landscapes and warm hospitality.
With a population of just 127,199 people or 86 individuals per sq km, who are made up of diverse ethnic groups, Jempol presents a peaceful and multicultural atmosphere.
Amid ongoing infrastructure development projects and efforts in education and welfare by its member of Parliament (MP), the district highlights the progress and well-being of its community.
Its MP Datuk Shamshulkahar Mohd Deli has been actively addressing the community's concerns and needs.
He said with its moderate population density, Jempol offers a peaceful and relaxed atmosphere that's perfect for anyone looking to escape the hustle and bustle of city life.
"The district is home to diverse ethnic groups. Bumiputeras comprise the largest group at 69%, followed by Chinese and Indian residents.
"A small percentage of the population belongs to other ethnic backgrounds, contributing to the multicultural nature of Jempol," he said.
In terms of gender equality, Shamshulkahar said Jempol values the importance of balance, with a population ratio of men to women recorded at 107:100.
"With 36,982 residents and 32,294 households, the district offers a variety of housing options to cater to different preferences and needs.
"The average household size is four individuals, creating a close-knit community."
Shamshulkahar said beyond the statistical data, Jempol boasts stunning landscapes and tourist attractions that are sure to captivate visitors.
The district is known for its rich cultural heritage. Visitors can immerse themselves in the local customs, cuisine and traditional festivals that celebrate its vibrant history.
"The district provides a unique opportunity to witness and experience the convergence of different cultures, which creates an unforgettable multicultural experience for all.
"From lush rainforests to breathtaking waterfalls, Jempol offers a bounty of natural beauty waiting to be explored.
"Adventurers and nature enthusiasts can enjoy activities such as hiking, camping, and bird-watching in the surrounding areas."
On the maintenance of infrastructure, Shamshulkahar said projects to develop the district have been taken into consideration to provide the best for the local community and tourists.
"We have repaired the collapsed federal road embankment in Serting Hilir 2 and Serting Hilir 4, and completed the construction project of a road from Kampung Geddes through Sungai Kelai to Felda Palong."
Shamshulkahar said repairs to the collapsed federal road embankment were funded by the Works Ministry.
The road construction project from Kampung Geddes through Sungai Kelai to Felda Palong was announced by Prime Minister Datuk Seri Anwar Ibrahim during the presentation of the proposal for the mid-term review of the 12th Malaysia Plan in the Dewan Rakyat.
"Through this road, Jempol now offers an alternative route that can be used by Felda residents in the area, including the Orang Asli community.
"Kampung Sungai Kelai consists of the Orang Asli community in Palong 12 and Palong 13. With the completion of this new project, there will be three routes – Felda Palong and Ladang Bahau as well as the existing road – to Keratong.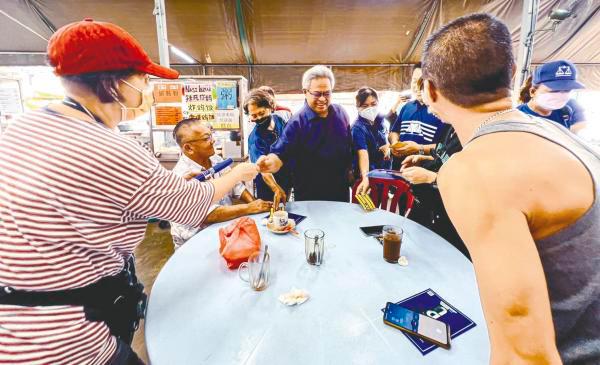 "The new road will connect Kampung Geddes to Kampung Sungai Kelai in Palong, covering a distance of 10km, which means that alternative routes will be available in that area," the MP said.
Shamshulkahar said the effort would shorten the travel time for residents in the surrounding areas, especially during emergencies, while also ensuring their safety with a better road network.
He emphasised prioritising regular inspections and necessary repairs to keep the road safe for residents and commuters.
"Once infrastructure is developed, it is crucial to ensure that proper maintenance is carried out to prevent any collapses or damages.
"This involves coordinating with the relevant authorities and the community so that immediate corrective measures are taken if a problem is spotted," he said.
While the projects are positive developments, Shamshulkahar said some residents might experience inconvenience during the development stage.
"My team and I will engage with the community, address their concerns and complaints that arise, and manage their expectations for future infrastructure projects.
"Building trust and maintaining open lines of communication within the constituency and the community can be a challenge at times.
"But by being there for them at all times, we can build trust and a well-developed Jempol district in the years to come," said Shamshulkahar, who has been Jempol MP since November last year.