THE Oppo Find N2 Flip made its big debut in the world of foldables this month, and is fast becoming one of the most buzzed about mobile devices in the market.
The device was previously only available in China, and many international fans had been looking forward to getting their hands on it due to the rave reviews from Chinese users. Right out of the box, you can tell that Oppo did not come to play, with particular attention paid not just to the phone's design, but its functionality and the user experience.
The device boasts a 6.8in folding AMOLED display – when laid flat – as well as a 3.26in vertical front screen display. What makes the phone truly remarkable is its Flexion Hinge.
As many other reviewers have pointed out, the N2 Flip folds perfectly flat, with no gap, and the crease is almost invisible. Obviously, you can feel it when you run your finger over the screen, but in daily use, when you are reading messages, surfing the internet, and especially when watching a video, it is near-imperceptible.
Under the hood, the N2 Flip comes with ColorOS 13 (based on Android 13), and – sadly – all the typical Oppo bloatware. However, I can almost forgive all the extra apps, thanks to the widgets that were built for the vertical front display.
Aside from the standard weather app, there is one that allows you to reply to messages (including WhatsApp) with predetermined emojis or sentences, a timer, and a photo app that lets you use the 'rear' cameras (one 50MP primary camera and a 8MP ultrawide) to take selfies, and gives you a neat bokeh effect.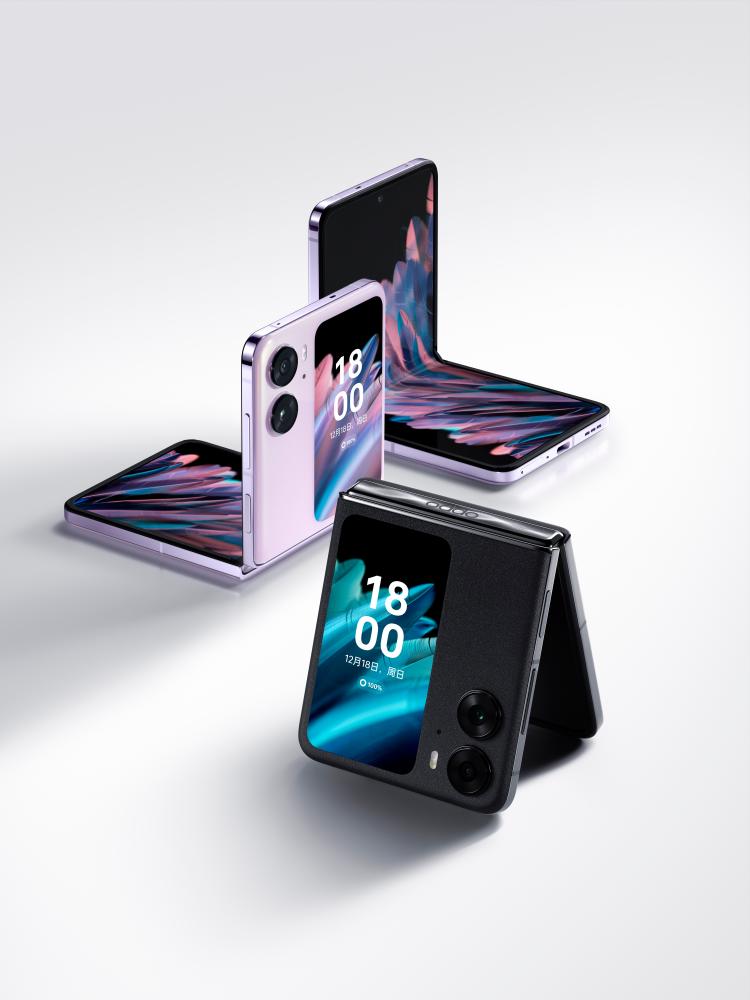 You can also choose to set a wallpaper for the front display, or have an interactive pet (with a choice of five animals) to play with. Overall, the front display successfully enhances the user experience beyond what you would expect from your smartphone.
In terms of cameras and photography alone, I would rate the N2 Flip as well above average.
What is going to be the main selling point is the flexibility the device offers. The ability to bend the screen really does offer so many opportunities to "get the perfect shot".
I found it useful when holding the phone to take both low and high angle shots, and it was especially convenient to set it down on the table to take group shots (you can trigger a selfie timer by holding up your palm).
As to the quality of the photos, daylight images displayed colours that were true to life, and videos looked crisp and bright. Indoor and night shots did have a slight grainy effect, which the phone appeared to attempt to artificially sharpen, but still better than most mid-range devices.
The N2 Flip also comes with a two-piece transparent hard case in the box, which is a nice 'freebie' to have with the phone. However, I did notice that after almost two weeks of daily use, one half became a little loose and could easily slide off when pulled. If that bothers you, it might be wise to invest in a proper, more secure case. Either way, the screens are protected with Gorilla Glass, so minor spills should be bearable. The phone is not water resistant however, so try not to get it too wet.

If there are any gripes to be had about the N2 Flip, its that the Super VOOC battery charging falls short in terms of speed. Having reviewed two other recently launched models with truly fast charging speeds, the N2 Flip felt like it was crawling at a snail's pace.
It took a full hour to get the device from under 5% to 100%, which is something I'm used to seeing from my own older model phone.
In addition, the Flexion Hinge is also a little looser than I expected, holding its position to a maximum of 110°. This means that if you tilt it too far back, it will fall straight. However, that only happened once; most of the time, I had the phone sitting at a solid 90° angle anyway.
Other than that, the visuals from the device were bright, and there are speakers at both ends of the phone with clear sound, making video watching and gaming a joy on the device. And despite my personal gripes against bloatware, none of the added apps caused the phone to run slow, in part due to its MediaTek Dimensity 9000+ chipset.
The phone only comes in one variant, 256GB of storage and 8GB of RAM, in two colours, Astral Black and Moonlit Purple.
Priced at a reasonable RM3,999, the Oppo Find N2 Flip just might be the foldable to beat.