BRAND'S Essence of Chicken (BRAND'S) is partnering with PLUS Malaysia Berhad (PLUS) to launch the road safety campaign Kekal Bertenaga Dan Selamat Di Mana Jua Anda Berada. Through this campaign launch, BRAND'S and PLUS hope to educate and promote safe driving behaviour while encouraging road users to remain alert during this festive season.
During this festive season, PLUSRonda plays a crucial role in ensuring that highway users have a safe and smooth journey during the festive season. BRAND'S is also showing their support for the team by providing BRAND'S Essence of Chicken to help PLUSRonda officers to stay alert and energised throughout their work shift during Ramadan and Hari Raya Aidilfitri with ease and safety.
PLUS Malaysia Berhad's Senior General Manager for Operations Mohd Yusuf Abdul Aziz said: "We are happy to be able to partner with BRAND'S Essence of Chicken in this BRAND'S x PLUS Kekal Bertenaga dan Selamat, Di Mana Jua Anda Berada campaign, that not only appreciates the tireless efforts of our PLUSRonda but is also co-promoting safe driving practices among the public.
"This is a period when families get together, schools are closed, and many Malaysians are on a break, and everyone partakes in the festivities of the season. It is also a time to relax, recharge and take a well-deserved break. It is important to remind drivers to practise road safety and not recklessly place the lives of other road users at risk."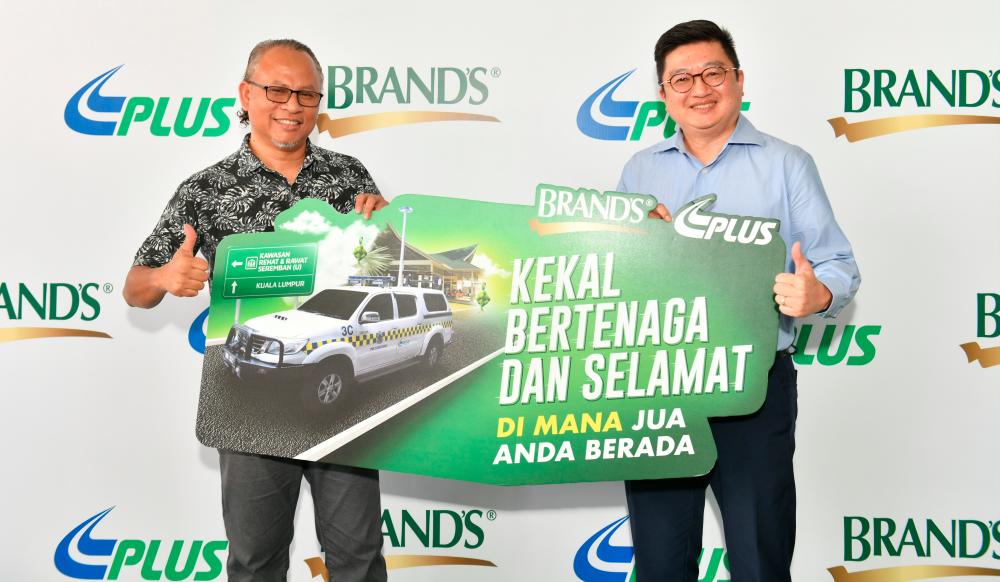 Taking a Break to Sharpen the Mind and Recharge the Body
As part of reaching out to the community during this festive season, BRAND'S is also giving away 50,000 bottles of BRAND's Essence of Chicken to PLUS highway customers at selected R&Rs, including the PLUSRonda.
The public will be able to grab a bottle of BRAND'S Essence of Chicken for a boost of energy for their trip back to their Kampung along these PLUS R&R stops throughout the week:
● April 21: Sungai Buloh Northbound
● April 24: Seremban Northbound
● April 30: Pagoh Northbound
Suntory Beverage and Food Malaysia's Marketing Director Rodney Tan said: "At BRAND'S, it is a privilege for us to collaborate with PLUS as we see the importance of giving back to the community and working collaboratively to drive road safety together. It is also timely as PLUSRonda recently celebrated their 33rd PLUSRonda Day on April 1, 2023. With the PLUSRonda team being on the road all the time, BRAND'S can help provide the energy and focus, especially during the fasting period.
"We are honoured to be able to provide health enrichment support to the PLUSRonda team whenever they need it. We understand the importance of staying alert while driving, especially when covering long distances. Our Essence of Chicken is designed to provide a quick boost of energy and mental clarity to help drivers stay alert and focused on the road."
PLUS and BRAND'S encourage travellers to check the PLUS Malaysia Facebook page and BRAND'S Essence of Chicken Facebook page for updates on the festive season Travel Time Advisory (TTA) and traffic. Also, check out BRAND'S x PLUS Kekal Bertenaga Dan Selamat Di Mana Jua Anda Berada booths along the PLUS expressway, which will be shared on social media for travellers to pick up a kit to help boost them during their late nights and early morning travels.
This partnership is part of BRAND's ongoing efforts to impact the community positively. BRAND's is committed to promoting travellers' health and well-being and reminding them about road safety during the festive season. BRAND'S hope this campaign will not only remind travellers of the importance of safe driving practices but also appreciate the roles played by PLUSRonda in ensuring the safety of all highway users during this festive period.