FLORAL arrangement is the art of arranging living or dried flowers to adorn and brighten up one's space. The history of flower arrangement dates back to ancient Egyptian times as early as 2,500 BCE when flowers were abundant along the Nile. Since ancient history, floral decoration has been tied to public ceremonies, festivals, and religious rituals. Flowers have played an important part in human life, be it celebrations of birth or the start of a courtship, all the way to funerals.
Recently, the BUZZ team was invited to May In December's flower arrangement workshop in the company's new studio, which is located above a cafe in Petaling Jaya. The owner of the flower business is Shamay Yuen, who goes by May. Ironically, May is a December baby. For her, the month of May signifies springtime, and December marks the end of the seasons with winter. Hence, she named her flower business May In December, a name that "signifies all the seasons of life".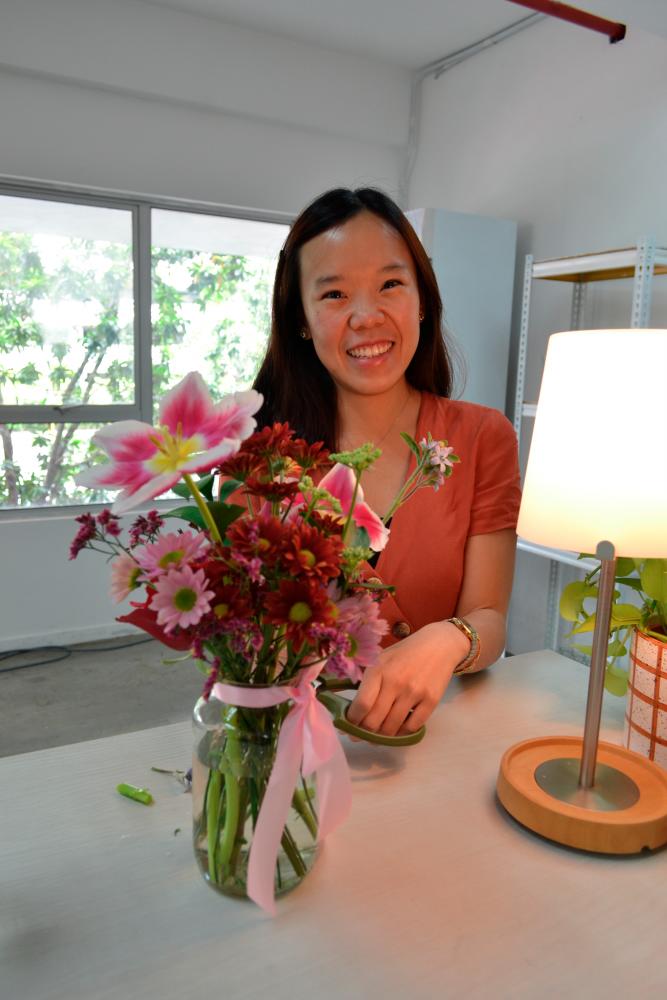 The workshop that we went to was her Signature Jar Workshop, where we'd learn basic floral arranging techniques in their signature medium jar, colour theory, and floral care. To enter her studio, you have to go inside Cream by The Roast Things and walk up the stairs at the back of the cafe.
Entering the studio, we saw a large variety of colourful fresh flowers on the open flower bar by the side, labelled with their names on the vases, prepped and ready. We headed over to the standing table, where there were floral scissors and mason jars half-filled with fresh water. Before the start of our workshop, May reminded us to calm ourselves to shake away any nerves. Since the flowers that we'll be arranging are a creation which is uniquely ours, we should just have fun!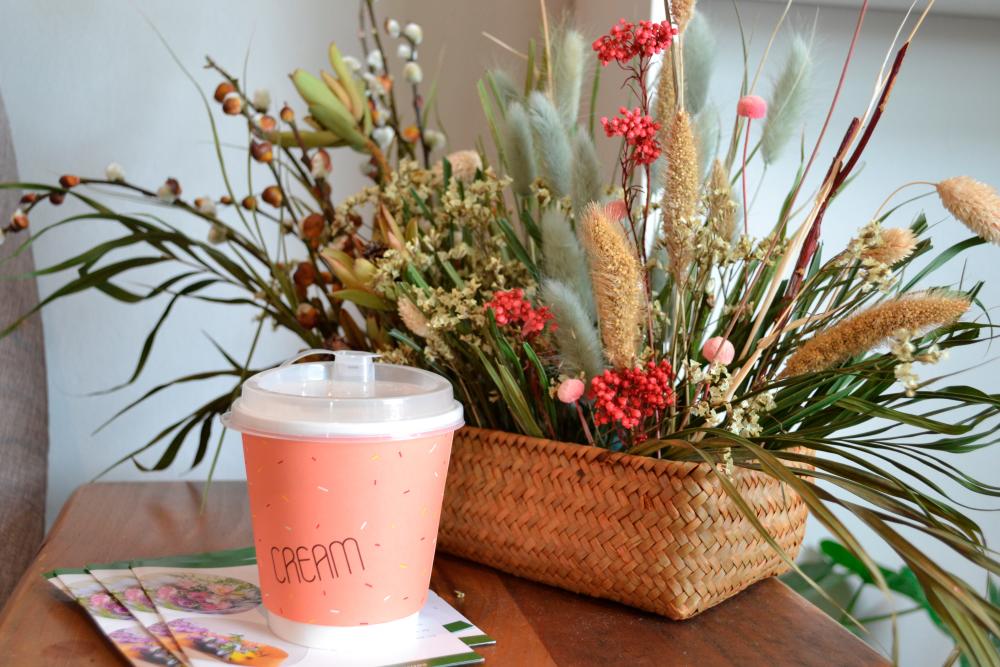 The first thing we learnt was that the height of the tallest stem should be approximately 2:1 ratio with the vase. This allows a more balanced look and prevents flowers from toppling over or looking too large for the vases/jars.
May advises starting with foliage or branchy stems, as they help become the stable foundation to start and add more bulk to the arrangement. The branchier stems we used were hardy chrysanthemums, and for the foliage, we had Johor and Ruscus leaves. For my arrangement, I was very intuitive with it. I started with yellows because that was what I saw right when I went inside, pairing bright yellow dancing lady orchids, elegant irises, and lanky craspedias, with tiny little ammi majus.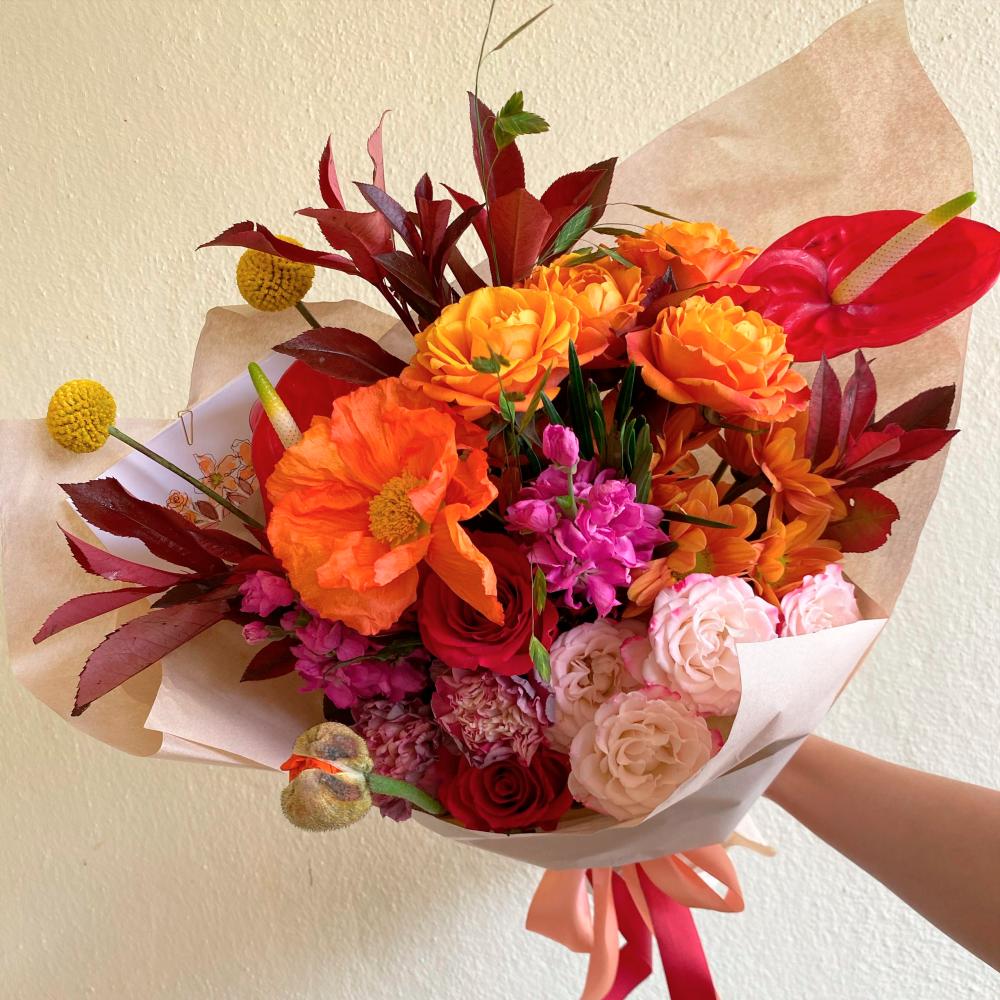 I then added some Johor leaves with yellow splotches to match the yellows in the arrangement along with orange ornithogalums and a pasta gerbera. To fit the flowers in the jar, we measured them outside the jar and cut the stems at the desired height. May suggests varying their heights to create depth in the arrangement.
Colour theory-wise, it was a sunny and light-coloured arrangement, so I contrasted them with a single stalk of purple iris, a stalk of purple and yellow allium, as well as blue oxypetulum. I then added some pinks into the arrangement with a bunch of hardy chrysanthemums and a stalk of Dutch carnation. The design gave me so much joy to see all the beautiful colours coming together, especially since it was a beautiful floral design that we made ourselves.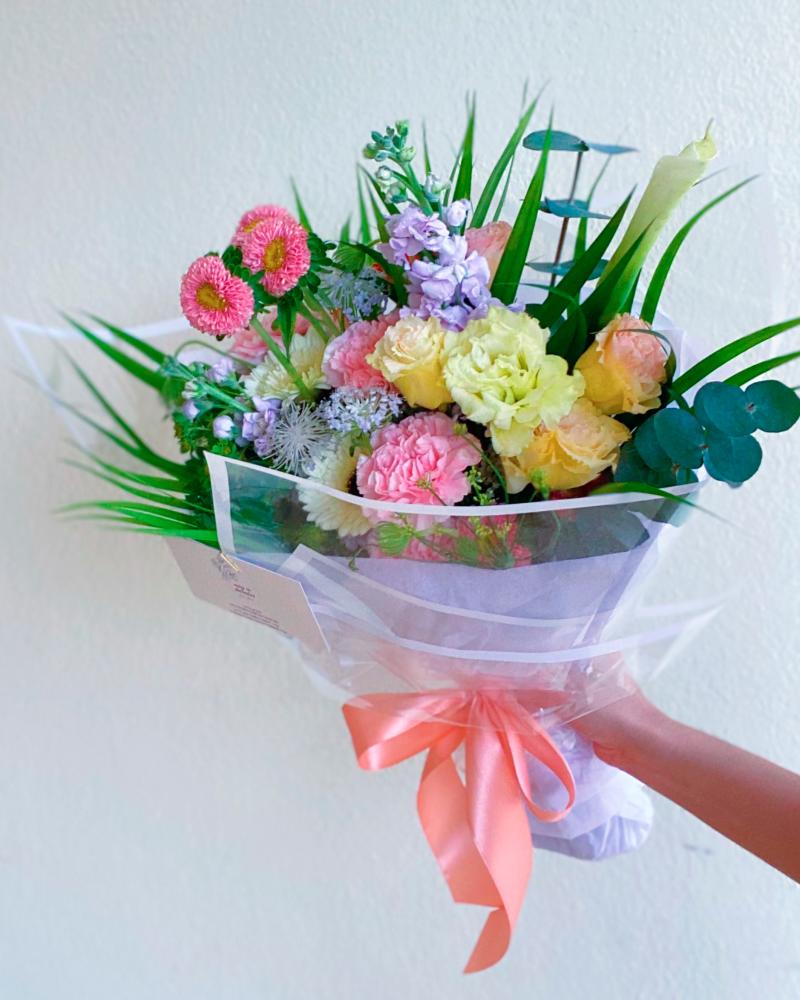 It's not about using every single type of flower either, because when we compared the team's design, each arrangement gave off a different vibe, and it really fits our personality. When I thought I was done, May said that I could even add some dried flowers if I wanted to. I looked at the dried flower selection and decided to add some dried light lilac limonium and lavenders to add more purple to the arrangement, and finally completed the design with some preserved white ruscus aculeatus. I also tied a cream-coloured ribbon on the jar to top it off.
The workshop allowed us to express our own artistry into a vase (or jar, in this case) that we could bring home. For the aftercare tips, May says to change the water inside the jar every two days and snip the ends off for easier water absorption.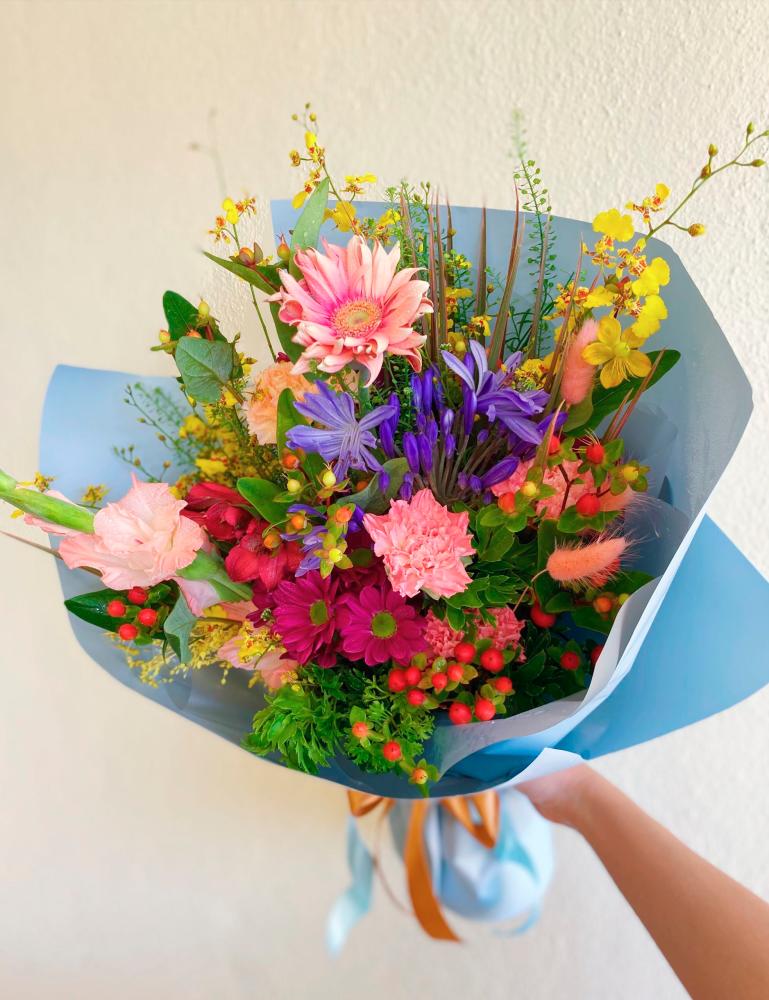 Previously, May worked as a nurse in Singapore for seven years. When I asked May why she took the plunge, she told me that ever since she was a young girl, she had always admired how her father brought flowers home for her mother, as well as painted lovely watercolour floral paintings. So growing up surrounded by flowers, May adored the beauty and the symbolism flowers meant to her.
In August 2018, after trying her hand out as a florist in Singapore, she decided to return to Malaysia to start her own business. Although her background was in nursing, she continued to utilise her great memory and dexterous skills in floristry.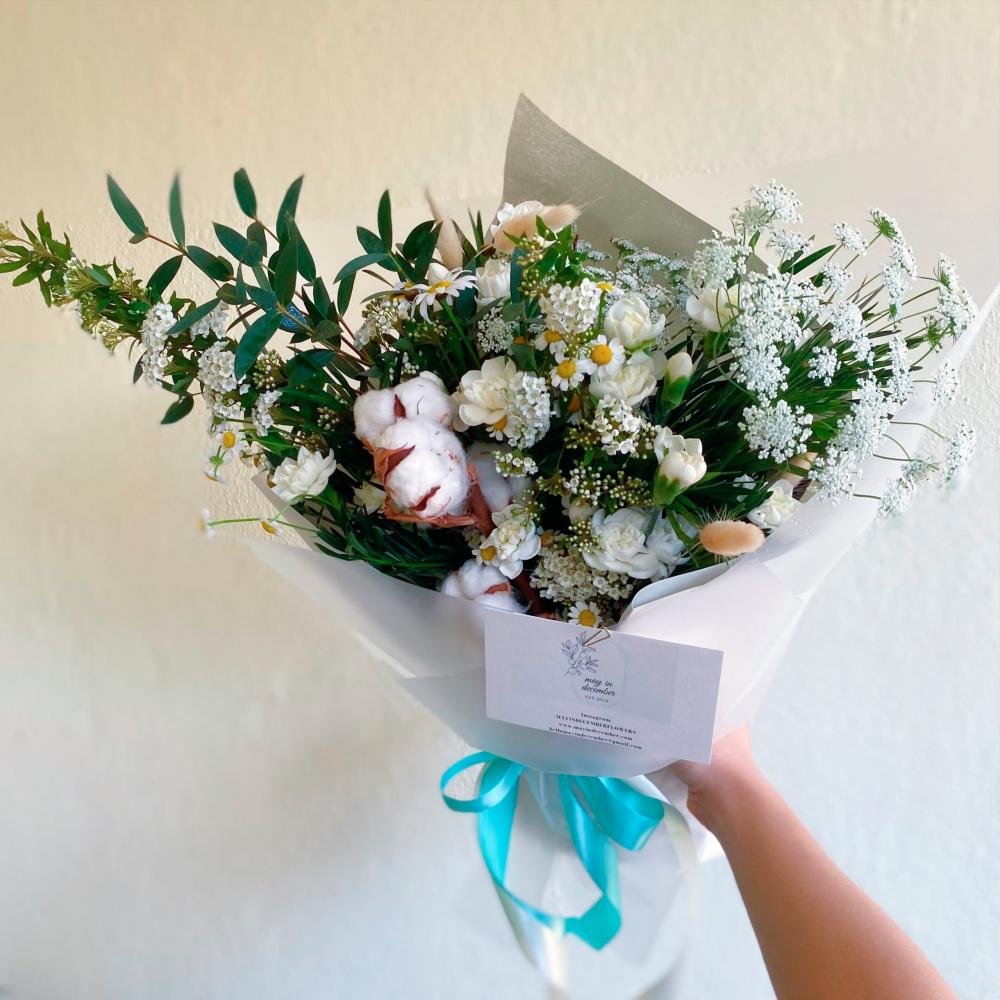 May is very knowledgeable about the different types of flowers and now is flourishing doing flower arrangements in different themes and moods, and her latest addition is having physical workshops at her new place.
Her themed flowers are like the seasons of the year, with spring representing the beginning. For spring, her theme features fresh flowers with hues of sweet pastels, while her summer themes are exuberant, loud, and vibrant. For fall, her flowers feature hues of warm earthy colours with shades of red and orange, while winter boasts a cool range of whites and shades of blue.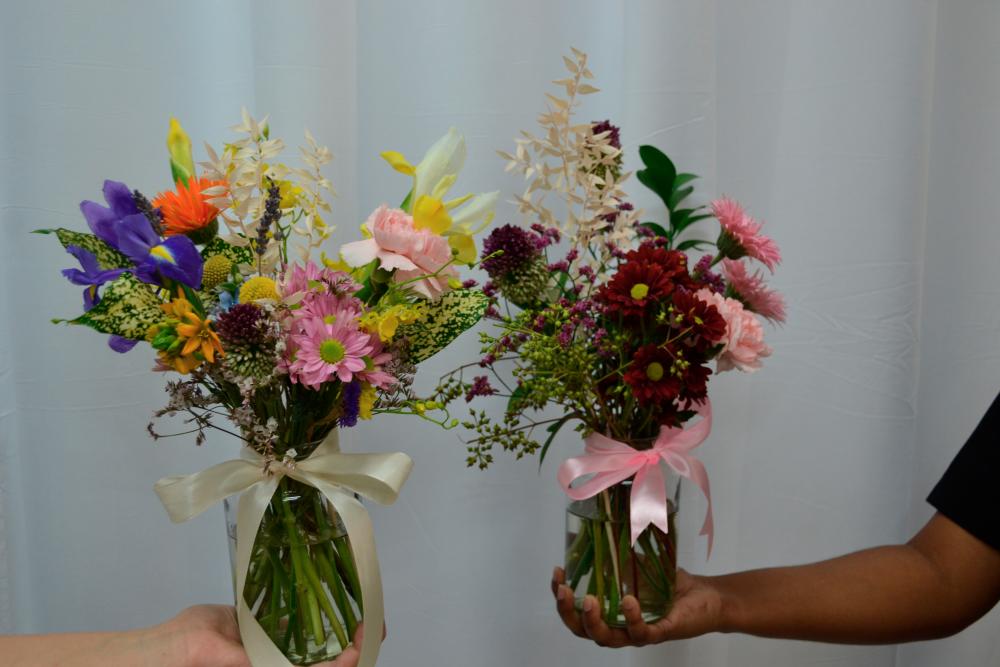 For everyone who joins her workshop, you also get 10% off all in-store shopping and complimentary coffee/tea from Cream cafe. Currently, dates for her Signature Jar Workshop are released at the end of every month, and you can sign up on her website at mayindecember.com.
If you'd like to order flowers from May for your wedding or a loved one, May also does "Uniquely Mayde Cards", which are personalised, hand-drawn, and handwritten cards that you can include in your bouquets. To keep up with May, follow her Instagram @mayindecemberflowers where she updates all her latest collections and you can find her shop located at A-G-01, The Tube, Jalan PJU 1/39 Dataran Prima, 47310, Petaling Jaya, above Cream cafe.