Among the important factors to consider when deciding on your choice of tertiary qualification is the programme's accreditation. Programmes which are well accredited by established and reputable professional bodies speak volumes of their quality and relevance to the industries.
For more than five decades, Tunku Abdul Rahman University of Management and Technology (TAR UMT) has been at the forefront of providing quality education which is highly recognised by local and global professional bodies.
This is especially so for TAR UMT's accountancy, finance and business programmes which are accredited by the following professional bodies:
● Association of Chartered Certified Accountants (ACCA)
● Chartered Institute of Management Accountants (CIMA)
● Institute of Chartered Accountants in England and Wales (ICAEW)
● Certified Practicing Accountant (CPA) Australia
● Chartered Institute of Marketing (CIM)
● Chartered Financial Analyst (CFA) Institute
● The Malaysian Institute of Certified Public Accountants (MICPA)
● The Malaysian Institute of Chartered Secretaries and Administrators (MAICSA) Malaysian Association of Company Secretaries (MACS)
● Financial Planning Association of Malaysia (FPAM)
● Asian Institute of Chartered Bankers (AICB)
● The Chartered Institute of Logistics and Transport (CILTM)
● Finance Accreditation Agency (FAA)
● Society for Human Resource Management (SHRM).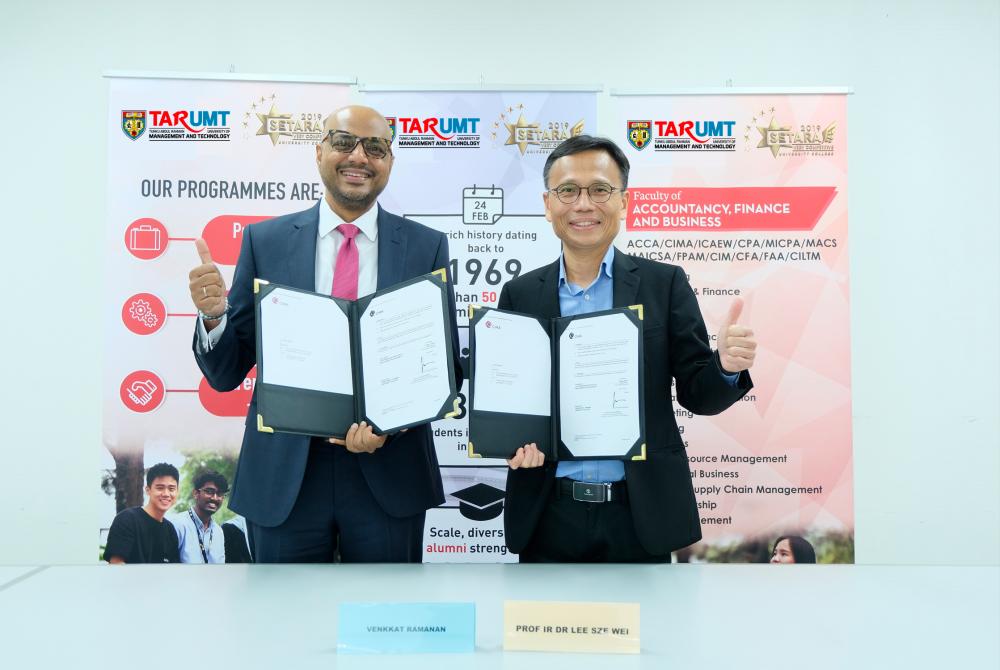 Some of these established professional bodies have been partners with TAR UMT for many years. ACCA is a fine example where in February of this year, TAR UMT and ACCA celebrated 50 years of strategic partnership between the two institutions.
Andrew Lim, Portfolio Head of ACCA Maritime Southeast Asia said: "TAR UMT has been a really strong and reliable partner and has produced many graduates over the past five decades. That's why TAR UMT is our ACCA Platinum Approved Learning Partner and the only institution in the world running the Internally Assessed ACCA Applied Skills programme."
Meanwhile, in October of 2022, TAR UMT signed an agreement with CIMA to pave the way for TAR UMT students to also pursue CIMA's Chartered Global Management Accountant (CGMA) professional designation while still studying at TAR UMT.
This is through CIMA's CGMA Finance Leadership Program which is a remote, digital self-paced learning program.
During the signing ceremony, Venkkat Ramanan, FCMA, CGMA, Regional Vice President, Asia Pacific, at the Association of International Certified Professional Accountants (AICPA), representing AICPA & CIMA said: "TAR UMT has been a key partner of CIMA in Malaysia since 1970 and has helped us create a pool of highly qualified business and finance leaders with management accounting knowledge in the country.
"We are proud to continue to partner with TAR UMT for the CGMA Finance Leadership Program, a complete digital learning platform, and enable a greater number of young talents to become Chartered Global Management Accountants and CIMA members.
"With the impact of digitalisation, it is crucial for future professionals to have strong skillsets and competencies to stay competitive in the modern business world. I believe the CGMA Finance Leadership Program is the right tool that students can use to get the relevant skills and mindset to prepare themselves for the future workforce."
To learn more about TAR UMT's professionally recognised finance, accountancy and business programmes, please visit us during our 2023 Open Day from May 27-28, 2023 at TAR UMT KL Campus and/or all TAR UMT branches nationwide.
You can also contact the Faculty of Accountancy, Finance and Business at (6)011-10548256 or (6)011-10597109. Alternatively, you can find out more or apply online at www.tarc.edu.my. Various financial aid and merit scholarships are available for qualified students.