Our students or fondly called BERJAYAns are specially trained by a team of professional chefs, thereby excelling in competitions and winning awards, making them much sought-after in the industry.
At BERJAYA University College, we take the business of food very seriously and have invested heavily in our premier state-of-the-art kitchen facilities and equipment for our students, sparing no expense to ensure that they are well-versed with the equipment that they will encounter in the working world.
In line with our philosophy of providing experiential learning, BERJAYA University College ensures that students gain exposure to real-world industry practices by learning from industry professionals. From sessions with internationally-renowned guest lecturers to participating in real-world events, activities and industry competitions, our students are awarded the privilege to learn hands-on in exclusive environments for optimum personal development of their craft.
Recently, our students from the Faculty of Culinary Arts and Faculty of Hospitality & Tourism participated in the world's largest cooking competition, the Malaysia Culinary World Cup as recognised by Guinness World Records (GWS).
Organised by Malaysia Bersatu Culinary Association (MBCA) and endorsed by Tourism Malaysia, the cooking competition was held at the World Trade Centre in Kuala Lumpur from the 21st-23rd of February 2023 comprising 713 participants and 90 judges.
With over 60 categories, culinary school students, professional chefs, home cooks, hawker stall owners and food truck operators from all over the world including South-East Asia, the Middle East and North Africa competed.
Our students cooked up a storm and emerged victorious with their winning Malaysian dishes bringing home 3 Gold, 2 Silver and 3 Bronze Medals!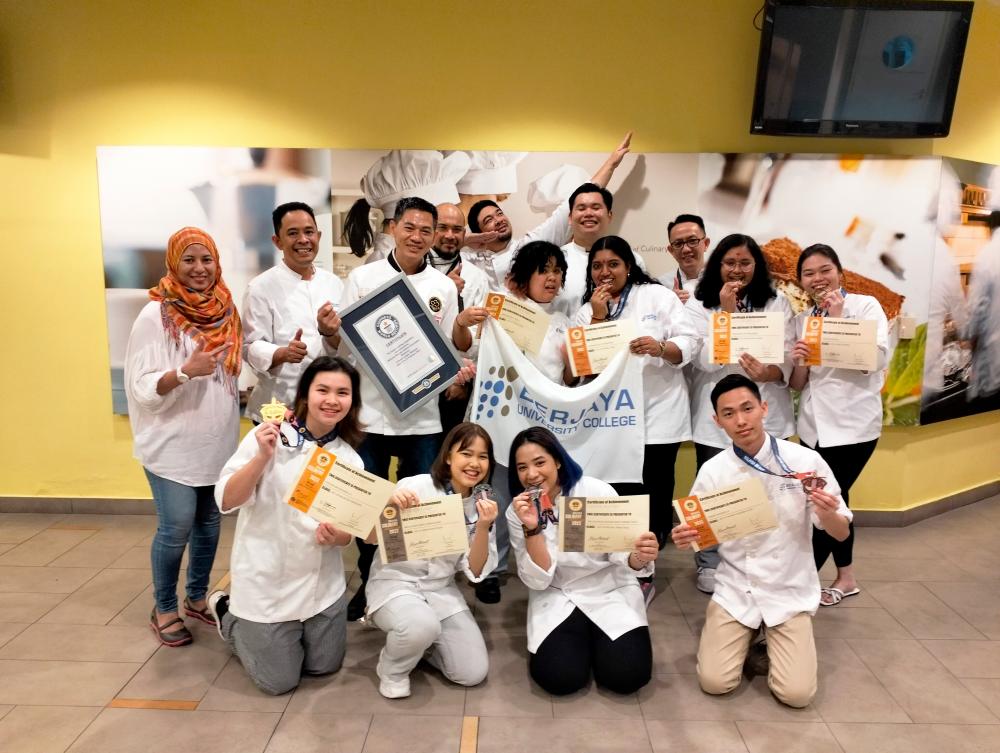 GOLD
· Felicia, Bachelor of Hospitality Management (Hons) - winning dish, Mee Mamak
· Kaylee, Diploma in Patisserie - winning dish, Malaysian Rendang
· Thanusha, Diploma in Culinary Arts- winning dish, Malaysian Laksa - all types
SILVER
· Mellisa, Diploma in Patisserie - winning dish, Special Fried Rice
· Anis, Diploma in Culinary Arts - winning dish, Fish Asam Pedasf
BRONZE
· Fabian, Bachelor of Culinary Arts Management (Hons) - winning dish, Hainanese Chicken Chop
· Adriana, Diploma in Patisserie - winning dish, Prawn Mee
· Jivesneha, Diploma in Patisserie - winning dish, Kerabu
The contestants were judged based on a point system with marks awarded for presentation, hygiene, taste and other criteria and were awarded medals according to the number of points accrued.
Well done BERJAYAns!
If a stellar career in the prestigious world of gastronomy is what you desire, enrol now at Malaysia's top culinary school and let the Faculty of Culinary Arts turn your passion into a rewarding career!