COWAY, the Best Life Solution Company, successfully brought more than 10,000 participants together through its annual running event, Coway Run. With the theme "Enter Our World", Coway welcomed the public to step into Coway's World to experience and discover infinite possibilities from Coway's perspectives. Coway Run is among the several initiatives introduced by Coway Malaysia, serving as a testament to the company's steadfast dedication to Change Your Life and enhancing people's quality of life.
Held at one of the most historical landmarks in Malaysia, Dataran Merdeka the participants were flagged off by Kyle Choi, Managing Director of Coway Malaysia accompanied by Mira Filzah, Brand Ambassador of Coway Malaysia.
Kyle Choi, Managing Director of Coway Malaysia shared, "2023 marks the seventh year of our beloved Coway Run in Malaysia, and this year's running event holds extraordinary significance for two compelling reasons. Firstly, we are thrilled we were able to have Coway Run at the iconic Dataran Merdeka, a landmark that holds a special place in the hearts of all Malaysians. This historic venue adds an extra layer of pride and excitement to our event. Secondly is the newly added 21km half marathon run category for our Coway Run. In contrast to the previous years, where the options were limited to fun run and 10km competitive run, this new addition opens up greater challenges and opportunities for our participants to push their boundaries and achieve new personal bests.
Coinciding with the upcoming Malaysia Day, our primary aim is to create a platform that fosters connection, understanding, and celebration of diversity. We welcomed people from all walks of life, irrespective of their ethnicity, religion, age, or background, to come together and engage in this healthy and invigorating activity. Coway Run not only promotes physical well-being but also serves as a unique opportunity for individuals to share their experiences and stories, fostering a stronger sense of unity and togetherness within our vibrant community through a healthy activity," concluded Choi.
The family-friendly 5km fun run this year features obstacles such as the mist tunnel, roller tunnel and mattress maze inspired by Coway's latest offerings – Coway Air Conditioner, Coway Massage Chair and premium mattress series. The water sprinkler tunnel and wind tunnel that represent Coway's water purifiers and air purifiers helped to beat the heat providing a fun and enjoyable running experience for the participants. The colossal-sized Coway products, Water Café, interactive game booths and also the specially arranged celebrity meet and greet session with Coway Malaysia's brand ambassador – Mira Filzah and renowned celebrities such as Daniel Fong, Elizabeth Tan, Elyn Leong, Fattah Amin, Hun Haqeem, Jestinna Kuan and Soo Wincci.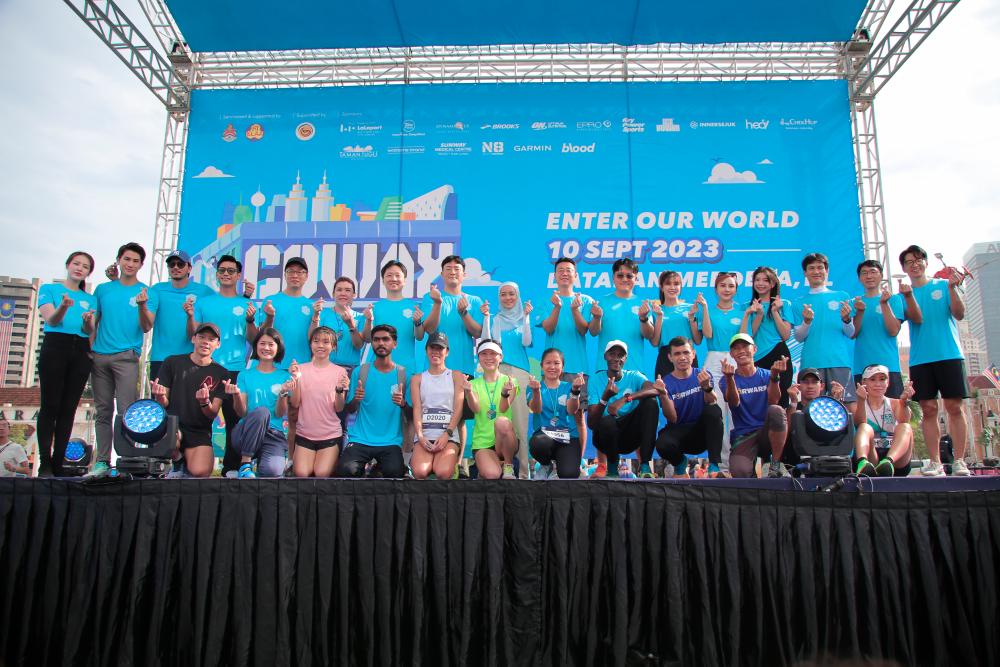 Coway Run 2023 also provided an avenue for the participants to Run Far, Help Wide by making a positive impact to the society as RM10 from each ticket sold will be contributed to Coway's CSR initiatives. Coway has always been committed in creating a world where people and the environment coexist harmoniously. As a result of the collective efforts, an impressive amount of over RM100,000 was successfully raised and will be used across Coway's CSR activities including the Happy Water Project, an aid to provide clean drinking water to underprivileged communities.
The participants of Coway Run 2023 demonstrated exceptional athleticism and determination. In the 21km Malaysian Men's Open, M Zalghani Hazman Akmal blazed through the finish line with a record time of 1 hour 16 minutes and 25 seconds took home a cash prize of RM 1000. Not to be outdone, in the 21km Malaysian Women's Open, Chua Michelle showcased her remarkable endurance, completing the challenging course in just 1 hour 28 minutes and 15 seconds bagged an impressive cash reward of RM 1000.
Moving on to the 10km Malaysian Men's Open, the champion, Nair Daren James crossed the finish line in a remarkable time of 32 minutes and 33 seconds. For his remarkable feat, he won a cash prize of RM 500. Meanwhile, in the 10km Malaysian Women's Open, it was Tan Joline who emerged victorious, finishing in an impressive time of 42 minutes and 39 seconds bagged a cash prize of RM 500.
The resounding success of Coway Run 2023 was made possible by the invaluable support of various esteemed sponsors and partners. Their generous contributions of products and vouchers added an extra layer of excitement and motivation for all the participants, making the event truly unforgettable.
For more information about Coway Run 2023, kindly visit www.cowayrun.com.my. Find out more about Coway Malaysia's products and services at www.coway.com.my.