CALLING all lifestyle enthusiasts: get ready to delve into the twisted depths of immersive horror with the highly anticipated sequel, Hauntu: The Curve, crafted by the imaginative minds at Superdough, the creators of the original Hauntu. This spine-tingling attraction has set new industry standards and celebrated a triumphant first month since its grand opening on July 25.
Hauntu: The Curve has already carved its eerie niche in the immersive horror genre by outpacing its predecessor, Hauntu: The Linc, in terms of visitor numbers. With a staggering 2,000 participants and a remarkable 70% slot occupancy rate during its debut month, Hauntu: The Curve has undeniably struck a chord with horror aficionados.
Co-founder and head of marketing at Hauntu, Cheah Ka Wai, expressed its commitment to delivering unforgettable, spine-chilling experiences through immersive storytelling. Superdough's success with Hauntu: The Curve can be attributed to several key factors:
Consumer demand for immersive horror
A recent Superdough survey revealed that 44.44% of respondents actively seek out horror-themed activities, aligning perfectly with Hauntu's offerings. More than half of the respondents (64.85%) emphasised the importance of a compelling narrative for immersion, underscoring the appetite for immersive storytelling in the horror community.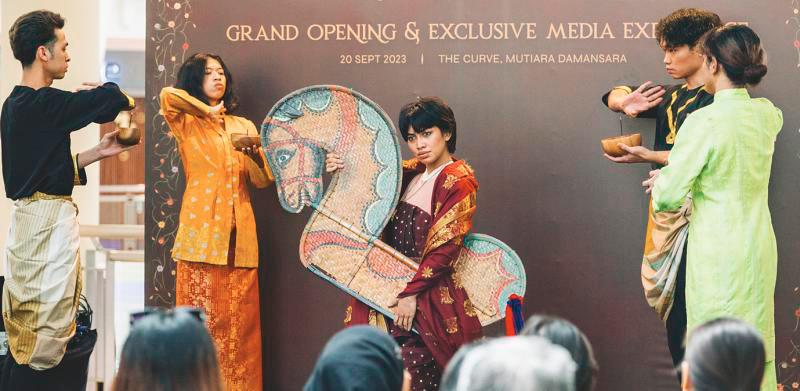 The art of innovation
Hauntu: The Curve takes immersive horror to the next level by combining original storytelling with cutting-edge technology, exquisite set designs, talented actors and interactive elements. This commitment to innovation has set a new industry standard.
Originality that transcends boundaries
Hauntu: The Curve draws inspiration from traditional Malaysian art forms and attire, creating a uniquely Malaysian yet universally captivating experience that seamlessly blends tradition with innovation.
Cultural authenticity
Collaborations with local cultural institutions like Pusaka ensure that Hauntu: The Curve not only thrills but also respectfully reflects Malaysia's rich cultural heritage. Hauntu: The Curve's grand opening has solidified its status as a trailblazer in immersive horror entertainment. As Hauntu continues to innovate, patrons can anticipate even more heart-pounding adventures and unparalleled experiences. The upcoming "Rimba Path" promises to transport guests into a mysterious forest setting, enhancing the already captivating journey.
Immerse yourself in the world of Hauntu: The Curve, where tradition meets innovation and thrilling adventures await. Discover more about this unique Malaysian horror odyssey and book your spine-tingling experience at https://ihauntu.com/mystical-dance-academy-hauntu-the-curve/.
Hauntu: The Curve has rewritten the rules of horror entertainment, and the journey has only just begun.